Cheese Turnovers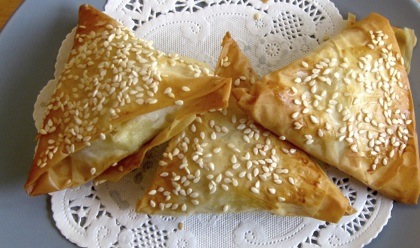 Buttery, crispy and flaky Armenian style cheese turnovers (Borek). Beautifully buttered fillo layers!
Ingredients
Yield:

8 servings
1 pound phyllo dough
½ teaspoon paprika
½ teaspoon salt
½ teaspoon pepper
1-2 tablespoons chopped parsley
1½ pounds muenster cheese or a mixture of muenster and cheddar
about ¾ cup butter, melted
1 beaten egg for glaze
Sesame seeds for topping
Method
Take the phyllo dough out of the refrigerator about 30 minutes prior to making turnovers. Remove it from the box, but leave it sealed in plastic.
Prepare the cheese filling by mixing together the 4 eggs, paprika, salt, pepper, parsley and cheese in a large bowl.
Prepare the turnovoers as shown in the video above. Brush with the beaten egg and top with sesame seeds (hulled).
Bake on a parchment lined or greased sheet pan at 375-400°F for 10-15 minutes or until well browned on the outside with cheese melted on the inside.
You'll want to bite into these right away, but be careful, they are extremely hot! Enjoy!