Polonaise Chicken Apple Salad Sandwiches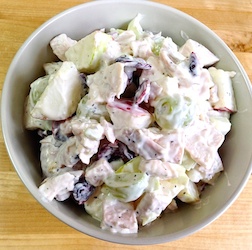 At Polonaise Restaurant, this was one of our most popular lunch menu items. It was served with a side of our homemade pasta salad and our customers loved it!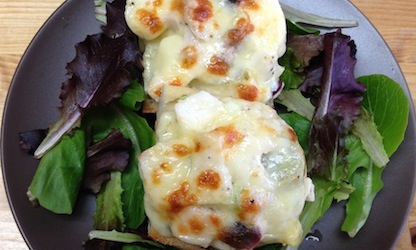 In the picture above, I've made mini-sandwiches, but in the restaurant they were quite large and made with Italian bread rolls.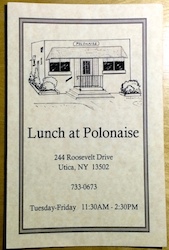 Ingredients
Yield:

(3-4 cups of chicken salad, 6-8 sandwiches)
1 tablespoon lemon juice
1 medium apple, diced
⅓ cup diced celery
½ teaspoon sugar (optional)
2 cups cubed, cooked chicken*
⅓ cup dried cranberries (optional)
⅓ cup halved grapes (optional)
½ cup mayonnaise
½ teaspoon salt
¼ teaspoon ground pepper
As needed bread rolls or slices
As needed mozzarella cheese, sliced (or other favorite cheese)
*The cooked chicken can come from a variety of sources. If you like to make homemade chicken stock, use a whole chicken (or chicken pieces) to make your stock and then you'll have chicken meat leftover for salad. You can also poach chicken breast (bone in or out) in a little water in a covered pan until the meat is no longer pink inside. Roasted chicken is another option. Whichever way, it's best to use cold chicken meat when making the salad.
Method
Toss apples with lemon juice in a medium mixing bowl. Add the rest of the ingredients, except for the bread and cheese and gently mix well. Refrigerate, covered, until needed.
When ready to make the sandwiches, place the chicken salad on the bread and cover with a thin slice of cheese. Too much cheese will just run off when melting and make a mess!
Place the sandwich (open-faced, no bread on top) in the broiler or toaster oven on broiler setting. Cook long enough to melt the cheese and brown it a little. In the restaurant, we buttered and grilled the other half of the roll and placed it on top of the sandwich.
Serve right away and enjoy! Add a side salad to make a complete meal.