Hungarian Beef Gulyas Soup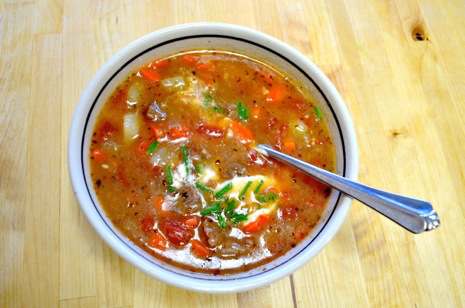 Learn how to make delicious Hungarian Beef Gulyas Soup - a family and Polonaise Restaurant favorite! Full recipe and video!
Ingredients
Yields: 3-4 qts.
3 tablespoons olive oil
1½ cups diced onions
1 large or 2 small garlic cloves, minced
1 tablespoon dried marjoram leaves
1 tablespoon Hungarian paprika, sweet
1 lb. trimmed boneless chuck, ¼- ½ inch cubes
2 cups boiling hot water
2 cups diced potatoes set in 2 cups cold water
2 cups diced carrots
14.5 oz. can petite diced tomatoes
2 cups water
¼ cup cornstarch
¼ cup cold water
1 teaspoon salt (or to taste)
¼- ½ teaspoon pepper
Method
Saute onions in oil until tender. Add garlic, paprika and marjoram. Cook one minute more.
Add beef and water, bring to a simmer and cook for 30 minutes.
Add the potatoes (with the water) and carrots, bring to a boil and simmer until vegetables are almost tender (15-20 minutes).
Add tomatoes and 2 cups water, bring to a boil and cook for a couple of minutes. Add more water if necessary.
Mix cornstarch with the ¼cup cold water and add to the soup while boiling. Bring to a boil and simmer for one more minute, stirring often.
Season with salt and pepper.
Serve with a dollop of fresh sour cream and top with chives or scallions!
Notes:
You can use more diced tomatoes and/or thicken with tomato paste and omit cornstarch.
Can substitute (the very) hot Hungarian paprika for the ground pepper.
Happy Soup Making!
© 2018 Susan Sady