Mediterranean Chickpea Salad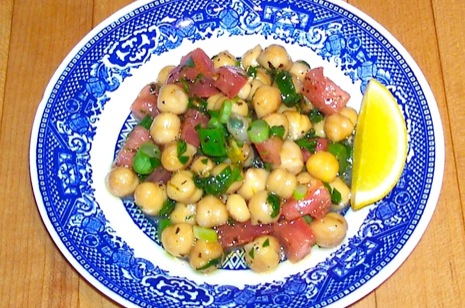 Learn how to make my Mediterranean Chickpea Salad. Easy, nutritious, delicious and vegan!
This is a recipe that I demonstrated, along with my
Sun-dried Tomato Basil Breadsticks
(picture on right) for the Makeover My Heart cooking workshop held February 4, 2012 at the Radisson Hotel in Utica, NY. It's a favorite of mine that can be prepared quickly using ingredients that I usually have on hand. Feel free to make substitutions. For example, if you don't have green onions on hand, substitute a little chopped fresh onion and so on.
Ingredients
Yield: 2-4 servings
1 can Chickpeas (1 lb. 3oz.)
1 cup Diced fresh tomatoes
¼ cup Chopped parsley
¼ cup Chopped green onion
3 Tablespoons Olive oil
2 Tablespoons Lemon juice
1 Tablespoon Red Wine Vinegar
½ teaspoon Salt
¼ teaspoon Ground Pepper
½ teaspoon Crushed dry mint, or 1 teaspoon, fresh chopped
Method
Drain chickpeas, rinse if desired. Place in mixing bowl.
Add remaining ingredients and toss gently.