Mini Thick Crust Pizzas!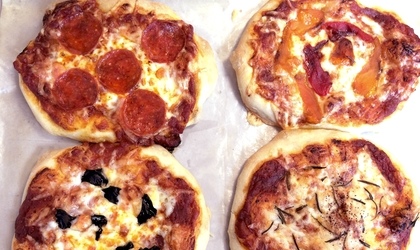 Let me show you how to make beautiful mini thick crust pizzas using my easy &quick pizza dough! For the dough, we'll use a variation of my Pizza For Two recipe.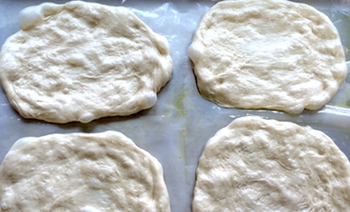 1) Don't stretch the dough too thin - we want thick pizzas.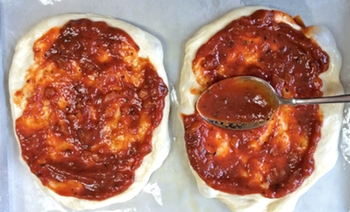 2) Now the toppings. I begin with my
Sweet Tomato Sauce
.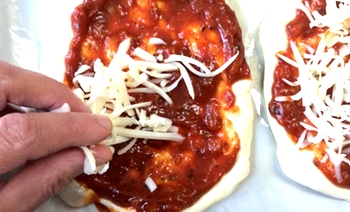 3) Then, a 50:50 blend of Monterey Jack and mozzarella cheeses.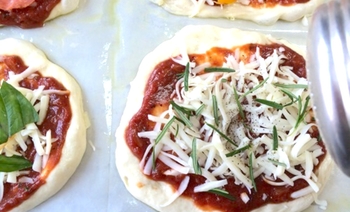 4) Add whatever you like (in pics - pepperoni, basil, rosemary)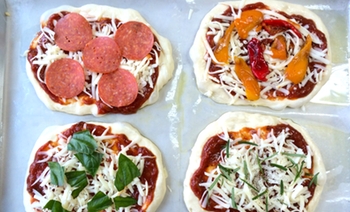 5) Ready to go in the oven. Bake at 410°F for 15-20 minutes.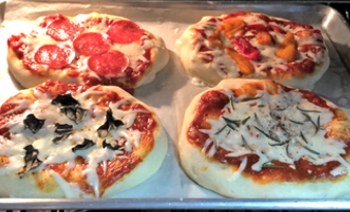 6) Baking in the oven!
Method
Measure flour into a medium sized bowl. Add yeast and pour water over the yeast.
Add the sugar, salt and olive oil. Try not to put the salt directly on top of the yeast. Let it all sit for 30 seconds to soften yeast.
Stir until the mixture begins to hold together. Use your hands to gather it into a dough. Scoop the dough mixture onto table or counter top and knead vigorously for 3 minutes. Use as little dusting flour as necessary. Watch my YouTube video to see how the dough is made.
Round the dough and place back in mixing bowl. Cover. If your kitchen is cool, set bowl in a shallow pan half filled with warm water.
After 40-60 minutes the dough should be risen to about double in size. At this point the dough may be refrigerated overnight for a better quality product (as was done with the dough I used here). A floured finger should leave an indentation when gently pressed into the dough.
Take the dough out of the bowl onto your work surface. Cut the dough into 4 pieces and round each piece. Try not to use too much flour while rounding the dough. Pinch the dough to seal.
Pour a little olive oil on a sheet pan and roll each piece of dough in the oil. (If you spray with non-stick spray, you can use less olive oil.) Cover and let rest for 15-20 minutes. You can use a sheet pan lined with foil or parchment paper for easier cleanup.
Time to make the pizzas! Spread out each piece of dough with your fingertips onto the sheet pan. If the dough resists stretching to much, recover and let it rest another 10 minutes.
When all pieces are stretched, put on your favorite toppings. Bake the pizzas in a 410°F oven for about 20 minutes.
Remove them from the pan. Yum! You may want to make a double batch!