Susan's Apple Pear Pie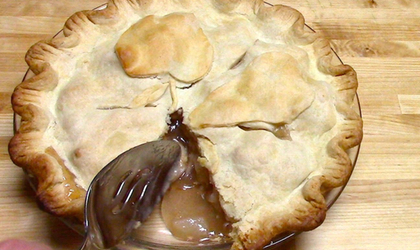 Learn how to make the perfect pie crust!
Pastry/Pie Dough Recipe
| | |
| --- | --- |
| 12 ounces | Pastry flour* |
| 1 teaspoon | Sugar - optional |
| Dash | Salt (optional - don't use if butter is salted) |
| 6 ounces | Cold butter, cut into pieces (1½ sticks) |
| 3 fluid ounces | Cold water (6 tablespoons) |
Measure flour (sugar and salt) into a large bowl.
Rub or cut butter with a pastry blender into the flour until pieces are quite small (like little flakes or pebbles). This can be done in a food processor with a cutting blade. Try not to let the butter melt. If using a food processor, transfer the mixture to a bowl and add water as in Step-3.
Add water gradually, while tossing the mixture with fork. If the mixture appears dry, add a little extra water, one teaspoon at a time. If it seems too wet (this is most likely to happen on humid days) don't add all of the water. If necessary, you can add a little more flour, but try to avoid this. On a hot day, use ice water.
Gently shape the mixture into 2 balls of dough and flatten slightly. Wrap well and refrigerate until needed. May be stored in the refrigerator for 1-2 days or in the freezer for a longer period of time.
This dough is very versatile and may be used for other tarts, crostatas and pastries. Just divide into the size needed before refrigerating.
*12 oz. of pastry flour is equivalent to about 3 cups, if the flour is stirred and gently spooned into the measuring cup (2⅓ cups, unsifted). If using all purpose flour, use the same weight or about 1 tablespoon plus 2¾ cups, measured by stirring first and gently spooning into the measuring cup and leveling off.
Apple Pear Pie
| | |
| --- | --- |
| 6 cups | Apple and pear slices or chunks** (1 lb. 4 oz.) |
| ⅔ cups | Sugar (may adjust to the desired sweetness) |
| ½ teaspoon | Lemon zest (optional, but I love it) |
| 2-4 tablespoons | All purpose flour (depends on fruit moisture content) |
| ¼ teaspoon | Cinnamon |
| one recipe | Pastry Dough (above) |
Mix together all ingredients (except for pastry dough, of course) in a large bowl.
Can precook and cool filling before use as a pie filling. Can also precook (in the microwave) a small amount of filling to test for consistency and sweetness.
Roll out one ball of pastry dough and line an 8-9 inch pie plate as demonstrated in the video. Trim dough even with the edge of the pie plate. Fill with fruit mixture. Roll out second piece of dough and place on top of the filling. Trim to about ½ -¾ inch past the edge of the plate.
Fold top dough under edge of bottom crust. Flute edges and press gently with fork. Make slits in the top crust and decorate with pastry cut-outs using milk for glue. If desired, brush milk lightly on top of crust for extra color.
Bake at 400°F for about 40-45 minutes. Crust should be lightly browned and the filling bubbling through the slits.
**Use at least 50% apples for the fruit mixture.
© 2015 Susan's Cooking School