Pita Pizzas - Spinach and Artichoke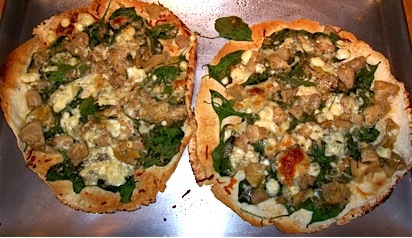 These pita pizzas are super easy and delicious. Experiment with different toppings if you like. You can also use my pizza dough instead of the pita for a more elaborate treat! Just put the toppings on the oiled dough instead of the pita and bake as directed for the pizza dough.
Ingredients
Yield:

Two 10-inch Pita Pizzas
1 large pita bread (~10 inches in diameter), split into two circles, horizontally
¼ cup olive oil, divided
2 medium garlic cloves, peeled
½ cup diced onion
2 cups spinach leaves (salad type, packed)
½-1 cup chopped artichokes, marinated or regular
⅓ cup shredded mozzarella cheese (or Italian cheese mix)
⅓ cup gorgonzola cheese bits
To taste: diced roasted red pepper
To taste: balsamic vinegar (optional)
Pepper to taste
Feel free to experiment with toppings!
Method
Pour 2 tablespoons of the olive oil onto a large baking sheet. Spread the pita halves on both sides in the oil. It won't cover completely. Set aside.
Place spinach in a large heat proof bowl and set aside.
Brown garlic in remaining oil over medium-low heat, turning to lightly brown evenly.
Add onions to oil and cook until tender and beginning to brown. Mash garlic in the pan.
Pour hot onion mixture over the spinach. Toss to mix well.
Spread spinach mixture evenly over each pita half. Sprinkle with artichokes, each cheese, and pepper (and red pepper if used).
Bake in a 400°F oven for 15-20 minutes or until edges and bottoms are browned and cheese is melted and bubbly.
Cut into wedges and serve with a little swig of balsamic vinegar on the top.