Susan's Flour Tortillas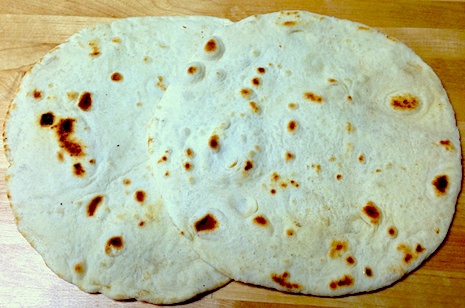 Fresh and simple to make, homemade flour tortillas contain none of the additives and preservatives found in the store bought variety. I use a food processor to make it even easier!
Ingredients
Yield:

(makes 8 small tortillas)
1 cup all purpose flour
½ teaspoon baking powder
2½ tablespoons cold butter, cut into small pieces
3-4 tablespoons cold water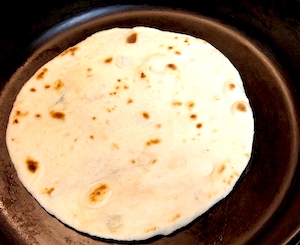 Method
In food processor, combine flour, baking powder and butter, and process until it resembles corn meal.
Gradually add water and continue to process until a ball of dough forms and leaves the sides of the bowl.
Knead dough by hand briefly and dust with flour. Rest, covered, for 15 minutes or more.
Divide dough into 8 pieces and round each piece. Let rest, covered, again.
Roll each piece of dough out as thin as possible (~6 inch diameter).
Cook tortilla on an ungreased griddle or skillet (cast iron is best). Flip to other side when spots are lightly browned. Keep cooked tortillas wrapped in foil until ready to use or refrigerate when cooled stored in a plastic bag.