Olive Bread With Rosemary and Sea Salt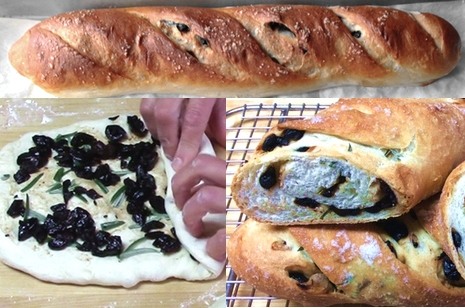 Learn how to make my crusty olive rosemary bread!
Ingredients
Yield: Two loaves of Olive Rosemary Bread
~1¼ cups warm water - I like to use spring water (100-110°F)
1½ teaspoons active dry yeast
1 lb. bread flour (~3-3½ cups, but weigh flour for best results)
2 teaspoons Kosher salt (or other uniodized salt)
2 tablespoons fresh rosemary leaves
1 cup diced oil cured olives (other types of olives can be used)
1 tablespoon extra virgin olive oil (plus extra for brushing on loaves)
For topping - extra virgin olive oil and Sea salt
Method
Add yeast to water, stir gently. Let sit 1-2 minutes to soften yeast.
Put flour in mixing bowl and add Kosher salt and 1 T of olive oil.
Add the yeast mixture to the flour and stir (with dough hook or wooden spoon) until combined. Add a little more water if the dough seems dry, but only 1 tablespoon at a time.
Place the mixing bowl on the stand mixer and mix on Speed 2 for 5 minutes. Take out the hook, cover and let rest 20 minutes. For hand kneading techniques, please see, How To Make Pizza Dough or How To Make French Bread.
Round the dough and place back in mixing bowl. Cover. If your kitchen is cool, set the bowl in a shallow pan half filled with warm water.
After 40-60 minutes the dough should be risen to about double in size. A floured finger should leave an indentation when gently pressed into the dough.
Take the dough out of the bowl onto your work surface. Cut the dough in half and round each piece. Flour the pieces of dough and cover with plastic. Let rest 10-15 minutes.
Stretch out each piece of dough and fill with rosemary leaves and olives as shown in the video.
Allow the loaves to rise until about double in size. Test with floured finger as in Step 6.
Brush the loaves with olive oil, sprinkle with sea salt and bake on a preheated stone in a 400°F oven for 20-25 minutes. In the video, I create steam in the oven, but this is something that I cannot recommend you try at home. For baking without a stone, see No Pizza Stone, No Problem! Loaves should be nicely browned and the bottoms should sound hollow when tapped.
Allow the loaves to cool on a rack before slicing. Serving suggestion: Dunk slices into extra virgin olive oil with coarse ground pepper. A little roasted garlic smashed into the oil doesn't hurt either!
For more information on yeast doughs, please see the following articles:
Happy Bread Making!
© 2016 Susan Sady