Susan's Traditional Pizza Sauce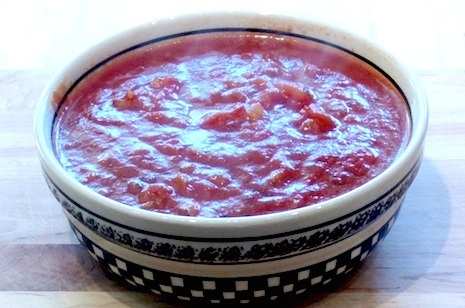 For a great pizza dough...
If you're interested in making your own beautiful pizza dough from scratch, visit my Pizza Page for great recipes and videos!
Ingredients
Makes enough sauce for three 12-inch pizzas. Leftover sauce freezes well!
⅓ cup extra virgin olive oil
2-4 garlic cloves, peeled
1 cup diced onion
1 teaspoon dried basil
1 teaspoon dried oregano
¼ teaspoon pepper
1- 28 oz. can diced tomatoes* in juice
1¼ cups water
1- 6 oz. can tomato paste
1 teaspoon sugar (optional)
Method
In a medium saucepan, over low heat, lightly brown garlic cloves in the olive oil.
Add onions and saute until onions are transparent and beginning to brown.
Stir in the spices and cook for about one minute more.
Add tomatoes and water. Bring to a boil, lower heat, and simmer for about 15 minutes.
Add tomato paste and stir into the sauce well.
Simmer for at least 10 minutes more, stirring often, adding more water if necessary. Tomato sauce burns easily, so keep a close eye on it. Simmer longer for a fuller flavored sauce, adding more water to keep desired consistency.
Add sugar (optional) near the end of the cooking time for a sweeter sauce.
For best results, cool sauce down before using on pizza dough.
Notes:
Whole peeled tomatoes, cut up work well too.
Sauce may be frozen in plastic containers or stored in glass jars in the fridge.
You may also be interested in my Sweet Pizza Sauce recipe.
Happy Cooking!