Whole Wheat Pizza Dough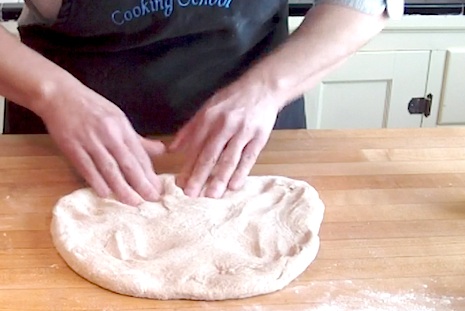 Learn how to make my Whole Wheat Pizza Dough!
Ingredients
Yield: Enough dough for 1 large pizza
Sponge:

1 teaspoon active dry yeast (about ½ packet)
6 oz. whole wheat flour* (about 1⅓ cups)
9 fl. oz. warm water (100-110°F)
Remaining Ingredients (to be added to sponge):

2 teaspoons olive oil
6 oz. bread flour* (about 1¼ cups)
1 teaspoon salt, uniodized**
*I recommend King Arthur brand Whole Wheat and Bread Flours.
**I usually use Kosher or sea salt.
Method
Note: I often get asked if you can use all whole wheat flour instead of half whole wheat and half bread flour. The answer is yes, but the dough will be more sticky and difficult to handle and the resulting pizza will be much denser and strongly wheat flavored.
Prepare sponge: In a large mixing bowl, stir together yeast and flour; add water and mix well. Cover and let rise at room temperature until the mixture looks bubbly and is about doubled in size, 30-60 minutes.
Make the dough: Add the remaining ingredients to the sponge and mix as much as possible with a spoon. If the dough seems to dry, add a little more water. If it feels wet, add a little more bread flour. Make adjustments, if necessary, in small increments (one tablespoon at a time, or less).
Empty dough onto a hard, flat surface and knead vigorously for five minutes, using as little flour as necessary to prevent the dough from sticking. This may be done using a heavy duty stand mixer with a dough hook and mixing on speed two for 5 minutes or speed one for 10 minutes.
Round the dough and place back in the bowl. Cover and let rise until double (usually between 1-2 hours).
Take the dough out of the bowl and round it again. Coat lightly with flour, cover and let rest for about 30 minutes. Dough should be about 1½ to two times in size and feel pliable when ready to use.
When dough is ready, lightly flour hands and stretch dough gently, into a rectangular shape. It will be further stretched in the pan.
Pour olive oil onto sheet pan. Coat dough on both sides in oil and stretch to fit the pan, making sure to coat the bottom of the sheet pan well in the process.
The dough is ready to be topped with your favorite topping and baked at 400°F for about 25 minutes. When done, the bottom should be nicely browned and the cheese (if used) bubbling! Enjoy!
Notes:
Spread the topping evenly over the surface of the dough, leaving a little edge for the crust.
Pizza may be baked immediately, or for a lighter crust, you can let the pizza rest for 15-20 minutes before baking.
Happy Pizza Making!
© 2016 Susan Sady