Susan's Homemade Bagels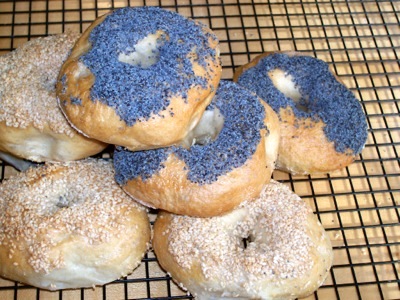 ---
Freely use these recipes for your enjoyment, but please do not republish.

Large Batch (6 qt. mixer)
1 lb. bread flour (~3½ cups)
1 tablespoon active dry yeast
2½ cups warm water (90-100° F)

---

1 lb. bread flour (about 3½ cups)
1 tablespoon Kosher or uniodized salt
Optional: Sesame seeds, Poppy seeds, or other toppings
Medium Batch (4.5 - 5 qt mixer)
Approximate Yield: 10 bagels
12 oz.(~2½ cups) Bread flour
2¼ teaspoons (¼ oz. envelope)
1¾ cups warm water (90-100° F)

---

12 oz. bread flour (~2½ cups)
2¼ teaspoons Kosher or uniodized salt
Optional: Sesame seeds, Poppy seeds, or other toppings
Prepare a sponge out of the first three ingredients: Measure the flour into a large bowl. If using a heavy duty stand mixer, place the ingredients right in the mixing bowl.
Add the yeast and water. Stir vigorously until smooth. Cover and let rest until double in volume.
When the sponge is ready, add the remaining flour and salt. Knead with a dough hook for 10 minutes on Speed 1. If the dough appears too dry and the mixer sounds as if it's straining, add a little more water. If the dough seems too wet, add a little more flour. Try to make these changes early in the mixing process. Occasionally you may need to stop the mixer and scrape the dough from the sides and the bottom of the bowl.
If kneading by hand, empty dough onto table and knead for 8-10 minutes, using as little flour as necessary to prevent the dough from sticking. For more information on hand kneading with video instructions, visit my French Bread page.
When the dough is finished mixing, remove the dough hook and let the dough rest covered for about 20 minutes.
Reshape the dough to form a tight surface that will hold in the carbon dioxide created by the yeast.
Cover and let the dough rise until double in volume. (see How Long Does it Take Dough to Rise) The time will vary mostly dependent on room temperature. Should take between 30 minutes to one hour. The dough is ready when an indentation remains after gently pressing with your finger.
Take the dough out of the bowl onto a table or cutting board and scale or divide it into 12-14 pieces (between 3.5 to 4 ounces makes a good size bagel).
Round each piece into a ball. Coat each one with flour, cover and let them rest/rise for about 15-30 minutes or until the dough has expanded a bit. Don't let them rise too long or the bagels may collapse when you boil them.
Dust the bagels with a little flour. Press down into the center of each bagel to make a flattened indentation. Then cut the hole in the dough. A small cannoli form for great for this.


Bagel ready to be boiled!

Boil the bagels in salted water for 2 minutes on each side. If the bagels have over-risen, only boil for 1½ minutes per side. Turn carefully.
Remove the bagels from the water and drain on a baking rack.
If desired, seed the bagels before baking. An egg white wash (1 egg white beaten with 1 tablespoon of water) is optional but gives a nice glaze to the bagels and helps the seeds to stick. To seed: Dip the bottoms in cornmeal, then dip tops in egg white wash, water or nothing if the bagels are still wet from boiling. Then dip the tops again in your topping(s) of choice.
Bake the bagels on a preheated baking stone at 400°F and begin checking them at 25 minutes. They may also be baked on greased or parchment lined sheet pans. You may turn the bagels when they're almost done to help them brown evenly.
The bagels are nice and golden brown when done. If your bagels are not browning well, it's possible that the dough was over fermented and the sugars present have been used up by the yeast. The bagels will still taste great, but they won't get as golden in color. Bake longer for a darker color, but not so long that they will be dry.
Be careful when slicing!
Happy Bagel making!
Notes
If using measuring cups instead of a scale, stir flour first, then spoon into the cup and level off.
Quantity if water needed may fluctuate
Uniodized salt is best. I like to use Kosher or sea salt.
For more information on yeast doughs, please see the following articles: How Long Does it Take Dough to Rise and Pizza Dough FAQs
Happy Cooking!
© 2016 Susan's Cooking School