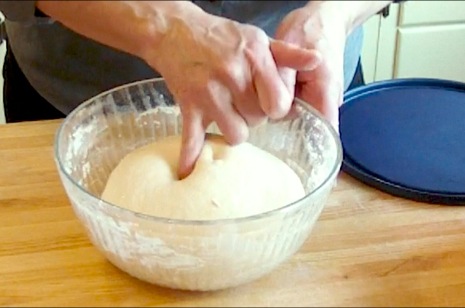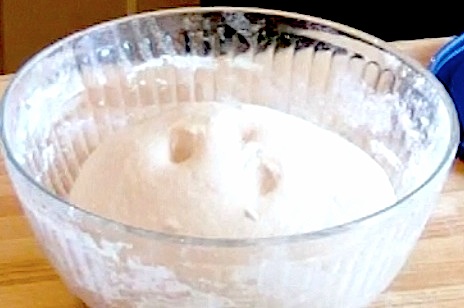 More Info, Recipes
How Long Does It Take Dough To Rise?
This is one of the most common questions asked when I'm teaching how to make any type of yeast dough. I am sorry to say that there is not an easy answer to this question, as there are so many factors contributing to the rate of yeast fermentation that results in the production of carbon dioxide gas that makes the dough grow. Here, I'm going to discuss what I consider the greatest factor - temperature. In reading this article, keep in mind that I'm generally referring to a relatively lean dough, of average moisture content, like that used for pizza and bagels.
The ideal fermentation temperature for most yeast doughs is around 80°F* (27°C). It is really hard to control the fermentation temperature of the dough in a home kitchen. The dough's temperature will be dependent on the temperature of the water you used to make it and room temperature. If your kitchen and/or counter where you knead the dough is cool, the dough will cool down also (even if you used warm water to make it). If your dough is kept at around 80°F, it should take between 1 and 1½ hours to rise double in volume. To determine whether the dough is risen enough, I use the technique shown in my regular pizza dough and quick pizza dough videos, that is also demonstrated in the picture at the top. Visually, the dough should appear to be double in volume, resulting in the dough staying indented when a finger is gently pressed on the surface. If you need a warmer place to rise your dough, it can be placed in a covered bowl set over a pan of warm water. In the warm months, you may need to use cool water to get a final dough temperature of 80°F.
When making pizza dough....
Once the pizza dough is rounded, it needs to rest and rise some more. This is very important as the dough will not stretch well right after it has been kneaded or manipulated in any way. When the gluten gets activated, the dough will feel tight. This is a good thing as it will provide structure and form to your finished product. The dough at this point does not need to be fully doubled, but the finger indentation test will tell you if the dough is ready. If you begin to stretch the dough and it springs back or is resistant, allow it to rest some more. Again, temperature is a factor here.
---
*This is a broad generalization with many exceptions.
For more helpful information, visit my Pizza Dough FAQs page.
Happy Baking! ©2019 Susan J. Sady