Carrot Cupcakes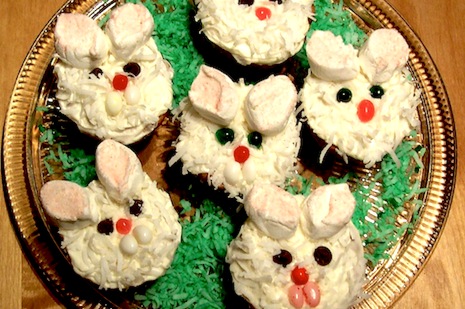 This is the perfect recipe for moist, delicious, carrot cupcakes. They taste great plain or iced and make very cute Bunny Cupcakes.
Cupcakes
Yield:

one dozen cupcakes
1 cup all purpose flour
1 cup sugar
1 teaspoon baking powder
½ teaspoon cinnamon
¼ teaspoon salt
¼ teaspoon baking soda
1½ cups finely grated carrot
⅓ cup vegetable oil
¼ cup yogurt
½ teaspoon vanilla extract
½ teaspoon almond extract (optional)
2 large eggs
Cream Cheese Icing
4 ounces cream cheese, softened
4 tablespoons butter, softened
1 teaspoon vanilla extract
3 cups powdered sugar
water as needed
Method
Cupcakes
Line 12-cup muffin pan with cupcake liners.
In a large bowl, stir together flour, sugar, baking powder, cinnamon and salt.
In another bowl, combine carrot, oil, yogurt, extracts and eggs.
Add the wet ingredients to the flour mixture and mix until just blended.
Fill cupcake liners to about ¾ full.
Bake for about 20 minutes at 375°F or until firm and baked through. Toothpick should come out clean when inserted into the center.
Icing
In a mixer bowl, beat together cream cheese and butter until smooth and light.
Add vanilla and mix some more.
Add sugar and continue beating until light and fluffy. Add a little water if necessary.
Spread on cooled carrot cupcakes.
To Make Bunny Cupcakes...
Scatter plain sweetened, shredded coconut on top of the icing.
Cut jelly beans in half for the nose and eyes or leave whole for teeth.
Can use chocolate chips for eyes, also.
To make bunny ears, cut marshmallows in half and squeeze into an ear shape. Press the cut side in pink colored sugar (Can use natural coloring).
Green coconut- makes a nice grassy place to put your bunnies