Let's Make Some Pierogi! | Będziemy Robić Pierogi!
This page is devoted to the hand making of beautiful pierogi! For many years, we made thousands of pierogi at Polonaise Restaurant, in Utica NY, co-owned with husband, Dariusz. Learn how to make authentic Polish style pierogi with the recipes below. Our latest pierogi vdeo, features The Polish Chef in action. Watch all of our pierogi videos for a real pierogi education! By the way "pierogi" is already in the plural form in Polish, but in the US, many prefer to use the Americanized plural form, "pierogies" (Don't let Dariusz hear that!).
Susan Sady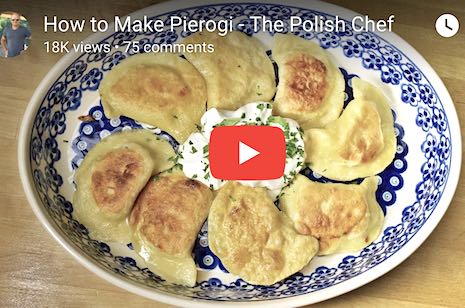 The Polish Chef makes pierogi!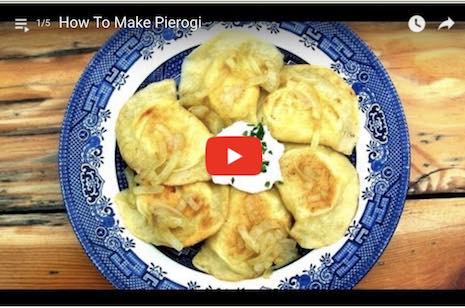 Susan's Pierogi Playlist!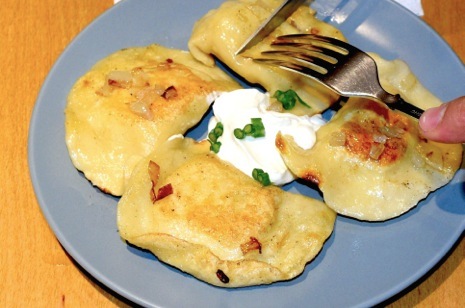 Pierogi Dough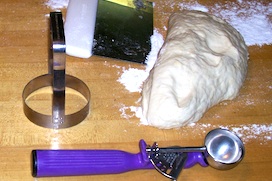 4 cups unbleached all-purpose flour
½ teaspoon salt
1 cup (approx.)
water
2 large
eggs
1. Measure flour and salt into large mixing bowl.
2. Measure water into large measuring cup. Add eggs to water and mix with a fork. Gradually add water/egg mixture to flour while stirring with the fork to evenly moisten all ingredients. Stir until ingredients come together.
3. Dump onto clean hard surface to knead.
4. Knead for approximately 1 minute or until dough is smooth. If dough appears dry, add small amounts of extra water near the beginning of the kneading process. If the dough is too sticky-add a little more flour.
5. Round the dough and coat with four. Place on the table and cover with plastic wrap or an inverted bowl.
6. Let rest for 10-15 minutes before using. This dough is enough for one batch of filling.
7. Fill, seal and boil pierogi as shown in
video
.
Note: May use salted water for boiling.
Potato and Cheese Filling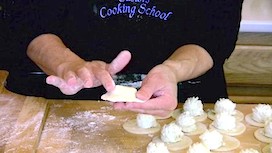 3 large baking potatoes
4 tablespoons butter
1½ cups diced onions
8 ounces (1 cup) ricotta or farmer cheese
½ teaspoon salt
¼ teaspoon pepper
1. Rinse potatoes, place in pot with enough water to cover. Bring to a boil and simmer for about 30 minutes or until fork tender. Drain.
2. Let potatoes cool enough until easy to handle. Peel and rice potatoes into large bowl.
3. Cook onions in the butter until soft, but not browned. Add to potatoes with the remaining ingredients.
4. Mix well, cover and refrigerate until firm.
Sauerkraut and Mushroom Filling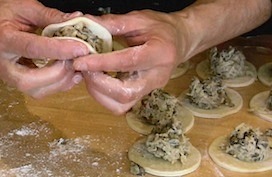 1-27 oz. can sauerkraut
1 tablespoon vegetable oil
4 tablespoons butter
1 cup onions, diced
1 lb. fresh mushrooms, chopped
1 teaspoon Salt
¾ teaspoon pepper
¼ cup sour cream
1. Rinse sauerkraut with cold water and squeeze out as much water as possible. Chop into half inch pieces.
2. Heat butter and oil in large frying pan until foam subsides. Add onions and cook over moderate heat until onions are softened.
3. Add mushrooms and turn the heat up to med-high. Continue to cook until the liquid from mushrooms has evaporated and the mushrooms become evenly browned. Stir frequently and monitor the heat to prevent burning.
4. Add sauerkraut, salt, and pepper to pan. Continue to cook and stir until heated through.
5. Turn off heat and add sour cream. Mix well and place filling in container and cover. Refrigerate until cool.
How to Freeze Pierogi
1. You may find my
How to Freeze Pierogi
video helpful.
2. Allow the pierogi to cool after boiling.
3. Line a rectangular freezer container with plastic wrap. As an extra precaution, you can spray the plastic wrap with non-stick spray.
4. Place the pierogi on the plastic, in rows, keeping overlapping to a minimum. When one layer is full, cover with plastic and begin placing more pierogi. When done, cover tightly and freeze.
5. When ready to serve, take out as many as you need and thaw in a plastic bag or bowl. They will not usually stick together at this point. I like to deforst them ahead of time, but if needed, you can speed up the process in a microwave oven. Be careful not to over heat as they can explode. You can also boil them frozen, but that's my last choice.
6. Once defrosted the pierogi can be reboiled and/or fried as if they were just made.
© 2019 Susan's Cooking School