Broccoli Cheddar Fougasse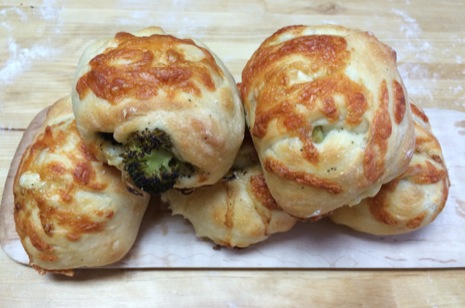 Learn how to make lovely Broccoli Cheddar Fougasse! This recipe was inspired by a visit to a wonderful bakery in Quebec City!
Ingredients
Yield:

6 stuffed fougasse rolls
Sponge:
8 oz. bread flour (~1½ cups*)
2 teaspoons active dry yeast
1½ cups warm water (100-110°F- On a warm day, use cooler water)
Dough:
10 oz. bread flour (~2 cups*)
2 teaspoons kosher salt
2 teaspoons olive oil
Filling:
1-2 onions, thinly sliced
1-2 tablespoons olive oil
1 small head of broccoli, trimmed into florets, steamed for 3 minutes and chilled (as shown in video)
8 oz. shredded cheddar cheese
Optional: 1 lb bacon, natural, if available
*Note: Weigh flour for best results.
Method
Prepare the sponge by combining the Sponge ingredients and stirring till smooth. Cover and let rest until foamy, about 30 minutes.
To make the dough, Add the Dough ingredients to the sponge and stir until combined. Vigorously knead the mixture on a lightly floured surface for 2-3 minutes (longer, if you're up to it). Round the dough and place it back in the bowl. Cover and let it rise in a warm place until the dough is doubled in size. The dough is now ready to use.
While the dough is rising, prepare the filling ingredients: If using bacon, fry slices until almost crisp and drain on paper towel. Use about 1½ slices per fougasse.
Saute the onions in the olive oil until lightly browned or however you like them.
Time to assemble and bake: Divide the dough into 6 pieces on a lightly floured surface. Give each piece a tri-fold as demonstrated on the video. Cover with plastic and rest for 10-20 minutes.
Stretch the dough lengthwise and place one sixth of the onion, (bacon), broccoli, and cheese in the center of each. Fold over the sides so that the filling is enveloped. Gently stretch each fougasse before placing it on a parchment lined or greased sheet pan. Cut 3 deep diagonal slashes on each piece (cut to expose the filling, but not to the bottom). Sprinkle with extra cheese if desired. Cover and allow the dough to rise again. Bake at 410 °F for around 20 minutes or until nicely browned with cheese bubbling through the slits.
Leftover fougasse can be refrigerated or frozen. They reheat beautifully!