Hungarian Hazelnut Torte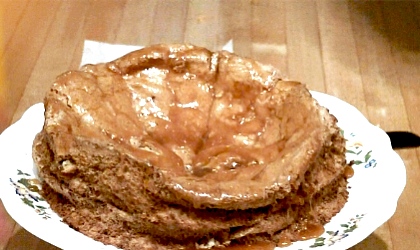 Learn how to make a flourless Hungarian Torte with a crunchy caramel crust topping! This cake is loaded with nuts and is super moist - goes great with a dollop of fresh whipped cream.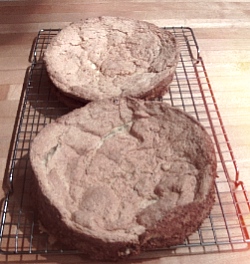 Cake layers, cooling on racks
Ingredients
Yield:

8 servings
Cake:
⅔ cup chopped hazelnuts
4 large eggs separated (best if not cold)
10 tabelspoons sugar, divided
Filling
4 tablespoon butter, softened
¾ cup confectioners sugar
1 tablespoon cocoa
1 teaspoon rum
½ teaspoon instant coffee
Water as needed
Topping:
6 tablespoons sugar
1 teaspoon butter
2 tablespoons water
Also needed: Breadcrumbs*, parchment or waxpaper, and non-stick spray for pan preparation. Whipped cream for accompaniment.
*For a gluten free torte, try substituting gluten free breadcrumbs.
Method
Prepare pans: Grease the bottoms of 2 eight-inch round pans and line with buttered (or greased) wax or parchment paper. Sprinkle breadcrumbs* on top of paper.
Roast whole hazelnuts on an ungreased cookie sheet @ 350 °F for 15-17 minutes or until skins are loosened. Rub the nuts in a dishtowel to remove skins. Use caution as the hazelnuts are very hot! Cool and chop finely.
In a large bowl, whip whites until soft peaks form. Gradually add 5 tablespoons of sugar and continue whipping until sugar is dissolved and peaks hold their shape when a spatula is drawn through.
In a separate bowl, whip yolks with remaining sugar until thick and lemon colored. Fold ¼ of whites into the yolk mixture. Fold in nuts and remaining whites.
With spatula, gently place batter into the prepared pans. Bake in a 350 °F preheated oven for 25-30 minutes or until cake springs back when lightly touched. Caution: cake is hot.
Remove pans to rack. Cool for 10 minutes and release cakes from pans (use a thin knife to gently loosen the cake from the sides of the pan). Remove paper from cakes. Allow to cool in upright position. The following steps are shown in the video above:
Prepare filling : Cream butter, confectioners sugar and cocoa until fluffy. Pre-mix the rum and instant coffee and add to butter mixture. Continue beating, adding a small amount of water, if necessary, to make to a spreadable consistency.
Spread the filling on one of the layers and place the other layer on top.
Prepare topping: Place sugar, butter and water in small saucepan. Heat over low heat until sugar is dissolved. Continue cooking until solution is light caramel color as demonstrated in the video. Caution-very hot!
Carefully pour hot topping over cake. When slightly firm, score with a buttered knife. This can be quite tricky the first time. Allow topping to cool and cake is ready to slice and serve with whipped cream!