Lahmajun and Yogurt Sauce
These middle eastern meat and vegetable topped flat breads are well worth the time it takes to make them. They can be served as an appetizer, snack or combined with a salad and yogurt sauce - a complete meal. I have included my flat bread dough recipe here, but for a quicker version, you can use bought pizza dough. I have to warn you, however, that the homemade dough is much easier to stretch or roll out before applying the topping.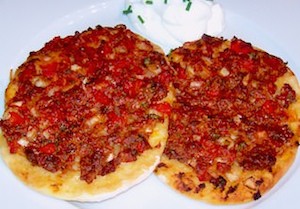 Ingredients
1 medium red or green pepper, diced
1 large onion, diced
½ cup chopped parsley
2 teaspoons crushed garlic
2 teaspoons paprika
2 teaspoons salt
1 teaspoon ground pepper
1 teaspoon dry mint (or 2-3 teaspoons fresh mint)
6-oz. can tomato paste
14.5 oz can diced tomatoes, drained (petite are best)
2 lbs. ground lamb or beef
1 recipe Flat bread dough or 2 lbs. pizza dough*
Garnish yogurt or yogurt sauce
Method

Combine first nine ingredients in a large bowl. Mix well.
Add meat and mix thoroughly, but don't over-mix.
Roll out or stretch dough into disks about 5-6 inches wide. Spread about 1½ tablespoons of filling evenly over surface, almost to the edges of the dough. These are rather small lahmajun - for larger lahmajun, use bigger pieces of dough topped with more filling.
Bake on parchment lined or lightly oiled baking sheet at 400 °F for 15-20 minutes.
Serve with a dollop of yogurt or yogurt sauce! Chobani yogurt is a great choice, either plain or in the sauce recipe.
*If using store store-bought dough, allow the dough to come to room temperature in the original packaging. Remove dough onto a lightly floured surface. Divide each pound of dough into 15 pieces (30 total). Round each piece, dust with flour, cover, and allow to rest and rise (about one and one-half times in size) before rolling or stretching in Step 3. Store bought dough can be very difficult to roll or stretch out and often yeast growth is inhibited due to the dough being frozen or refrigerated for a length of time. If you have the time, my
Flat Bread Dough
recipe (below) works great! For additional reference, see my
Pizza Dough Page
.
Yogurt Sauce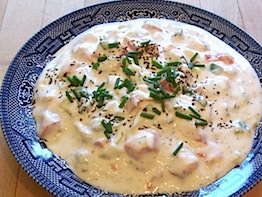 2 cups yogurt
½ cup diced cucumber, optional
1 large tomato diced, optional
2 tablespoons chopped green onions
1 tablespoon red wine vinegar
1 small clove garlic, minced
½ teaspoon dried mint (1 t. fresh)
½ teaspoon salt
¼ teaspoon pepper
1 tablespoon olive oil
¼ teaspoon cumin

Mix well, cover and refrigerate.
Garnish with chopped chives, green onions, or fresh mint, if desired.
Ingredients
½ cup water (90-100 °F)
2 teaspoons active dry yeast
1 teaspoon sugar
1½ lbs. bread flour (~4¾ cups)
2 teaspoons Kosher or sea salt
1 tablespoon olive oil
1¼ cups Warm water
Method
Sprinkle yeast on top of water, sprinkle sugar on yeast and stir gently. Let sit for 5 minutes.
Measure flour, salt and oil into a large bowl. Add the yeast mixture and stir to incorporate. Scoop the dough onto table or countertop for kneading.
Knead dough until smooth and elastic, about 5-8 minutes. Time will depend on the speed and force applied during the kneading process.
Round the dough and place back in bowl. Cover and let rise until doubled.
Take dough out of bowl and divide into 30 pieces.
Round each piece, flour generously and cover. Let rest until risen 1½ times in size. Dough is ready to use.
For more information on yeast doughs, check out these articles on my blog:
© 2019 Susan J. Sady