Armenian Style Pilaf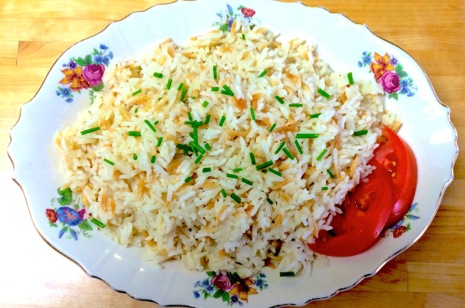 Learn how to make Armenian style pilaf. This is a favorite family dish. It's delicious, easy and goes with almost any meal!
Ingredients
Yield:

8 servings
6 tabelspoons butter
⅓ cup Orzo (broken bits of thin pasta may also be used)
1 ⅔ cup long grain rice
4 cups hot chicken broth
Salt and pepper to taste
Method
Melt the butter in a sauce pan with the orzo. Stir and cook over medium heat until orzo is lightly browned.
Add rice and continue to cook to heat through for about 1 minute.
Carefully add the broth, while stirring. Season, and bring quickly to a boil
Cover, lower heat, and simmer until the liquid has been absorbed. This usually takes about 18 minutes.
When the pilaf is done, turn off the heat. Leave covered until ready to serve.
Fluff the pilaf gently with a spoon before plating and garnish with chopped parsley if desired.
Note: If your chicken broth is salted, you may not want to add additional salt.