Susan's Pizza For Two!
Ingredients
9 oz. bread flour* (1¾ cups if stirred first, scooped and leveled)
1 teaspoon active dry yeast
¾ cups warm water -I like to use spring water (100-110°F)
½ teaspoon sugar
1 teaspoon Kosher salt (or other uniodized salt)
1-2 tablespoons extra virgin olive oil (for the sheet pan)
*
Weigh flour for best results
FYI
I came up with this method and recipe while working on a simple technique for teaching kid's how to make pizza. I found that I really liked to use it myself, especially when I'm in a hurry and only want to make enough for two (with no leftovers). I designed this recipe to use as few steps and utensils as possible. If you'd like to make a more traditional pizza dough, see my original, How to Make Pizza Dough video. Good luck and happy baking!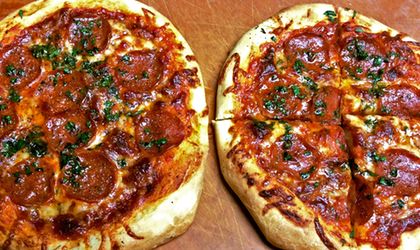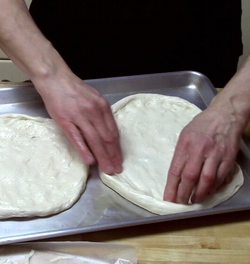 Method
Measure flour into a medium sized bowl. Add yeast and pour the water over the yeast.
Add the sugar and salt. Try not to put the salt directly on top of the yeast. Let it all sit for 30 seconds to soften yeast.
Stir until the mixture begins to hold together. Use your hands to gather it into a dough. Scoop the dough mixture onto table or counter top and knead vigorously for 2-3 minutes. Use as little dusting flour as necessary.
Round the dough and place back in mixing bowl. Cover. If your kitchen is cool, set bowl in a shallow pan half filled with warm water.
After 40-60 minutes the dough should be risen to about double in size. A floured finger should leave an indentation when gently pressed into the dough.
Take the dough out of the bowl onto your work surface. Cut the dough in half and round each piece as before. Try not to use too much flour while rounding the dough. Pinch the dough to seal.
Pour a little olive oil on a sheet pan and roll each piece of dough in the oil. Cover with plastic wrap and let rest for 15-20 minutes. You can use a sheet pan lined with foil for easier cleanup.
Time to make the pizzas! Spread out each piece of dough with your fingertips onto the sheet pan. If the dough resists stretching to much, recover and let it rest another 10 minutes. Never try to stretch dough that has just been rounded or kneaded - the gluten will be too tight. When the pizzas are the desired size, put on your favorite toppings. In the video, I use my sweet tomato sauce, shredded mozzarella, pepperoni, parsley and a dash of coarse ground pepper. I also made another batch with sautéed mushrooms.
Bake the pizzas in a 400°F oven for about 20 minutes.
Remove them from the pan. Slice and eat! Mmmm. Goes great with beer on a Friday night!
For more information on yeast doughs, please see the following articles: