The Polish Chef
Potato Pancakes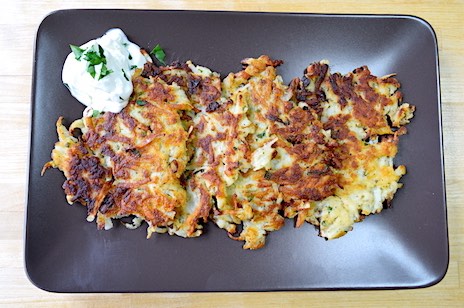 Susan and I show you how to make beautiful Potato Pancakes with our unique recipe. This was a true favorite at Polonaise Restaurant!
Ingredients
Yield:

6-8 servings
2 lbs. (4-6 med-large) russet potatoes
2 large eggs
1 teaspoon cider vinegar
¼ cup vegetable oil, plus extra oil for frying
½ teaspoon salt
½ teaspoon pepper
½ cup all purpose flour
2 tablespoons each chopped parsley and green onion
Method
Rinse potatoes in a pot, then add cold water to cover by about 1 inch. Cover, bring to a boil and simmer for 8-10 minutes. Carefully drain, cool 20 minutes and refrigerate overnight.
Peel and shred potatoes, place in a large bowl.
Mix remaining ingredients except for flour in a separate bowl. Add to the potatoes along with the flour. Stir gently to incorporate evenly.
Fry the potato pancakes as shown in video. Serve with sour cream. Enjoy!