Pizza Dough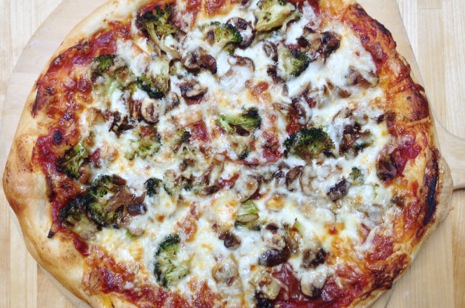 Learn how to make my famous Pizza Dough!
Yield:

Recipe will make three 12-inch pizzas.
Ingredients
½ cup (4 fl. oz.) water (90-100°F)*
2 teaspoons active dry yeast
1 teaspoon sugar
1½ lbs. (~5 cups) bread flour*
2 teaspoons Kosher salt*
1 tablespoon olive oil
1¼ cups (10 fl. oz.) water*
Metric Ingredients
120 ml water (32-38°C)
10 ml active dry yeast
5 ml sugar
680 grams bread flour
10 ml Kosher salt
15 ml olive oil
300 ml water
*Notes
The water temperature for softening the yeast (½ cup) should not be above 110°F The remaining water (1¼ cups) temperature is dependent on room temperature. The goal is to have a final dough temperature of around 80°F. On a hot day, cooler water should be used.
The quantity of water needed in Step 2 below, may fluctuate due to ambient humidity.
Weigh flour for best results, but if you can't, measure the flour as follows: Gently stir, spoon into a cup and level with the back of a butter knife, chopstick etc.
You may substitute uniodized table salt for Kosher salt.
More Great Recipes!
Sprinkle yeast on top of water, sprinkle sugar on yeast and stir gently. Let sit until foamy, 15-20 minutes.
Measure flour, salt and oil into a large bowl. Add the yeast mixture and remaining water. Stir to incorporate. If the dough seems too dry, add a little bit more water. If too wet, add a little more flour. Keep in mind that the dough will absorb more water as it is kneaded.
Scoop the dough mixture onto table or countertop for kneading.
Knead dough until smooth and elastic, about 5-8 minutes. Time will depend on the speed and force applied during the kneading process.
Round the dough and place back in bowl. Cover and let rise until doubled in volume. Take dough out of bowl and divide into pieces.
Round each piece of dough, flour generously, and cover. Let rest/rise until risen approximately 1½ times in size or until a floured finger leaves an indentation when pressed gently into the dough. If you're in a hurry, you can let the dough rest for a shorter period of time, but it may be more difficult to stretch out.
Pizza Dough is ready to use.
Continue...
Links of interest:
© 2019 Susan Sady